RAILWAY TRACK GAUGE IN SOUTH AFRICA
The following advertisement appeared in The Sowetan on 9 July 2006: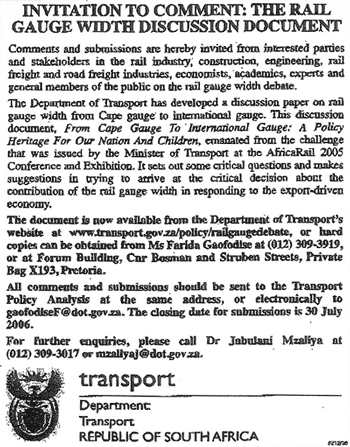 ---
Railway Corporate Strategy CC responded as follows on 28 July 2006:

"The Department of Transport is to be complimented on, and encouraged in, its quest to resolve South Africa 's gnawing railway gauge issue. While the Policy Discussion Document itself aggregates a disparate assortment of aspirations and aspersions, facts and fiction, information and disinformation, above all it puts forward an objective to which railway stakeholders of all persuasions in South Africa can unreservedly commit.
After due consideration, it was therefore considered wise to offer a few high-level comments only at this time.
The abovementioned disparate assortment is bound to harbour many partisan positions. In the inescapable interaction to align all railway stakeholders within a consensus outcome, like rocks in a river, some positions will be eliminated, while others will emerge as well-rounded stones. Item-by-item commentary by individual stakeholders at this time can thus represent no more than posturing: At present it is more urgent to engage all stakeholders in seeking that consensus outcome and moving toward it.
Most railways in South Africa are in poor shape. Many of their assets are fully depreciated and/or worn out, and will need to be renewed or withdrawn before long. The cost of changing track gauge will therefore be significantly less than that if sound assets had to be replaced. The time to initiate a major railway repositioning intervention has thus never been more opportune than the present.
It is important to appreciate that track gauge is not the only reason for current railway under-performance in South Africa . It is only one of many reasons, of which some are peculiar to South Africa , and others are shared by constrained railways around the world. Globalization has profoundly affected the railway industry: In many respects its members are playing out a global endgame—those that adapt successfully now will prosper into the future, and those that pass up an opportunity to adapt now will find themselves drifting beyond redemption.
South Africa is not alone in its railway predicament. Many other ex-colonial railways face similar watershed decisions. The way forward lies in letting railways be the best they can be by leveraging their genetic technologies: One of the most critical steps is successfully addressing the track gauge issue. The Department's readiness to entertain all shades of opinion on the matter will ease the rapids of adaptation that lie ahead.
As urged by Minister Jeff Radebe, Railway Corporate Strategy CC is willing to engage government. RCS is a globally-unique, research-based, consultancy. Its establishment was triggered by the looming question of railway sustainability, which has been perceptible to the keen railway observer in South Africa since the mid 1980s. In recent years, it has developed an intellectual toolset with which to examine and report on fundamental railway positioning questions within a global context. By way of example, an RCS paper presented at the recent World Congress on Railway Research in Montréal is attached.
Railway Corporate Strategy CC therefore requests an opportunity to make a presentation to the Department of Transport on the opportunities and pitfalls of railway globalization. Furthermore, it is willing to audit the status quo in South Africa with respect to global railway drivers, and to advise on various options for overall railway repositioning regarding track gauge as well as other necessary major interventions.
Thank you for the opportunity to comment. Railway Corporate Strategy looks forward to a positive response to this letter, and to a constructive relationship en route to sustainable railways in South Africa ."

---
2 August 2006